Valencia, 23 March 2015.- The ADAM dance association and the Hortensia Herrero Foundation renewed their collaboration agreement to launch the 6th International Dance Campus of Valencia one more year, organised by the ADAM association itself. The Campus will be held from 17 to 28 August and will take place in La Petxina Cultural and Sports Complex.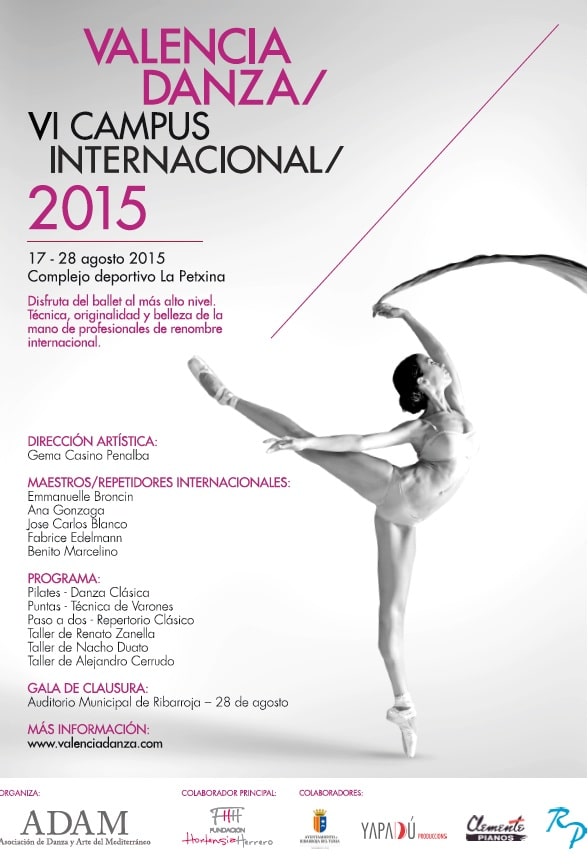 The Hortensia Herrero Foundation and ADAM will help a total of fifteen dance students to attend this summer campus, which filled all its vacancies last year. As in previous years, there will be two grant categories. On the one hand, those that will cover the inscription and attendance to the Campus, for which ten 550-euro grants will be offered. On the other hand, in a second category, five grants will be awarded to those students who need to also cover the stay. The Hortensia Herrero Foundation will allocate 992 euros for each of these five grants.
The application period starts today and will remain open until 13 April. The requirements for students who wish to qualify for a grant include having lived at least 50% of their life in the Valencian Community, where they must also be registered as residents; in addition, they must meet a series of economic and technical requirements, which will be evaluated at a hearing taking place between 9 and 10 May in La Petxina Sports Complex before a specialised assessment jury.
International Campus with almost 100 students
The International Dance Campus of Valencia is a student meeting led by Gema Casino Penalba (from Valencia) which holds its 6th edition this year. The programme includes classical dance, men's technique and pas de deux lessons, and different workshops by prestigious choreographers such as Nacho Duato, Johan Inger, Yoko Taira, Renato Zanella and Alejandro Cerrudo. The professional team is made up by Emanuelle Broncin, Ana Gonzaga, Fabrice Edelmann, Benito Marcelino and José Carlos Blanco. They are all great figures from the dance world who have developed their training and subsequent professional career as principal dancers and solo dancers in companies such as the Paris Opera, Stuttgart Ballet and the Spanish National Dance Company, among others. The Campus brought together more than 90 dance students from various European countries last year. As in previous years, a closing gala will be held at the Municipal Auditorium in Ribarroja at the end of the Campus, on 28 August.