The President of the Hortensia Herrero Foundation opened the Exhibition 'Six Sculptures' by Tony Cragg on 27 May 2018, which has been installed at the Ciutat de les Arts i les Ciències of València. "It is a pleasure to bring this exhibition to València and to fulfil one of the purposes of the Hortensia Herrero Foundation, to share and raise everyone's artistic and cultural awareness. Hopefully this will help us learn to understand Art, to value it and to love it", Hortensia Herrero said.
The president of the Foundation that promotes this exhibition explained that she fell in love at first sight with the work of Tony Cragg. "The first time I saw one of his works I was very impressed, but when I decided to buy it, it was already sold. It was not long after this that I found a very similar piece and I did not let it go."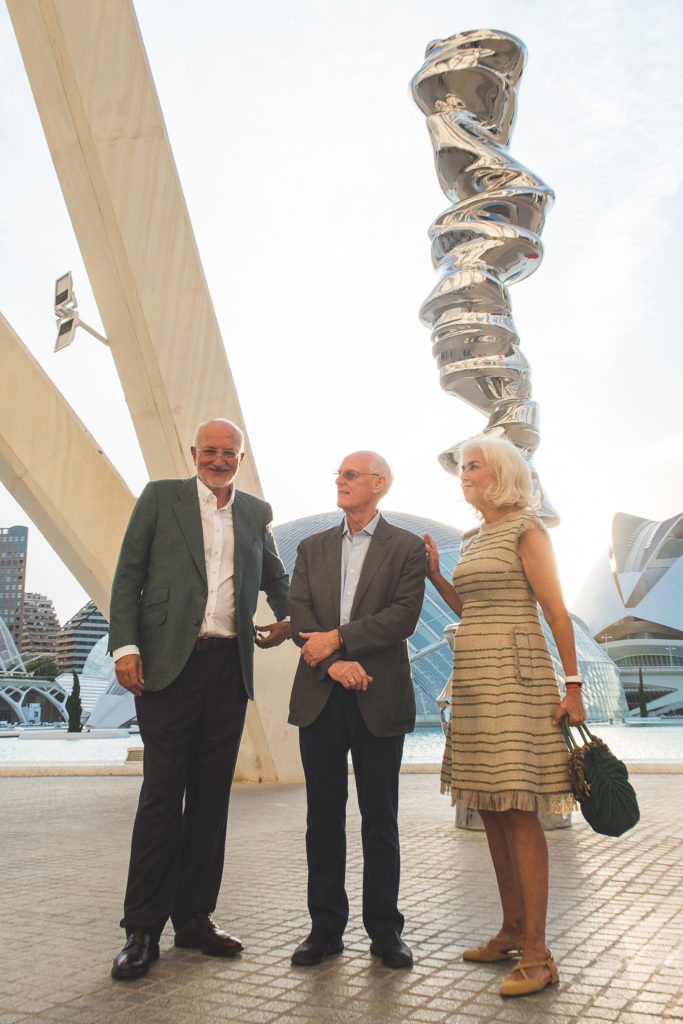 In her opening speech, Hortensia Herrero reminded that this opening takes over from last years' exhibition by Manolo Valdés. "We wanted to recreate the idea we had in ​​2017 and host a temporary exhibition by an exceptional artist, internationally recognised, here at the Ciutat de les Arts i les Ciències. At this moment, Tony Cragg has an exhibition that has just opened on Park Avenue in New York. Luckily, Valencians do not have to travel to see the artist's work, as we now have a representation of it here in València, so New Yorkers can come here to see it too."
Therefore, València is once again positioned as a tourist and cultural attraction. "The Ciutat de les Arts i les Ciències celebrates the arrival of this new exhibition brought by the Hortensia Herrero Foundation and offers, once again, an open-air art gallery right here in València," in the words of Enrique Vidal, director of the Ciutat de les Arts i les Ciències, the venue that hosts this exhibition of sculptures.
Hortensia Herrero will buy one of the sculptures
Just as she did last year, the president of the Hortensia Herrero Foundation committed to acquire one of the works: "I promise to acquire one of the sculptures and donate it to the city as a legacy of this exhibition, to decorate València and make it even more beautiful if possible. We already know where it will be located: on a small roundabout at one end of the Monteolivete bridge, a space that seems designed for one of these sculptures. As a Valencian, I want to thank the mayor for his approval and for making it easy." In addition, Hortensia Herrero took the opportunity to reveal that this exhibition will be followed by a new one next year, which will close a three-year cycle.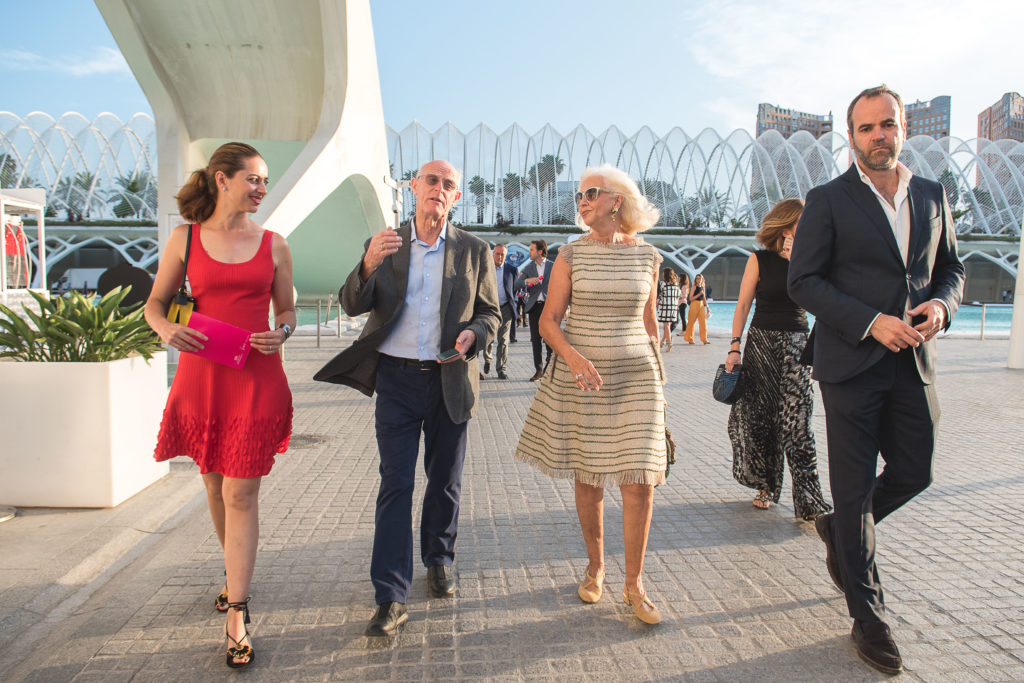 The opening event took place last night and gathered more than 400 guests. It was chaired by Hortensia Herrero and by the artist Tony Cragg. The British artist thanked Hortensia Herrero "for the love she has shown me and her interest in my work. It is a true honour that there is a temporary exhibition of my work in a city like València. It has been very beautiful. The Ciutat de les Arts i les Ciències is a great place to exhibit my work. I believe that a very positive dialogue has been created between my work and the architecture of this gravity-defying place. And the reflection of my sculptures in the water is also very interesting. I hope that Valencians and visitors enjoy the exhibition."
Water show
The opening of the exhibition closed with a water, light and sound show. "But the Hortensia Herrero Foundation wants us to enjoy these fountains not just today, we want to extend it to the whole of society, so that anyone can enjoy it. This show can be seen every Thursday, Friday and Saturday (in addition to workdays preceding public holidays) at 11 pm until 1 September", the president of the Foundation announced.
The sculptures by the artist Tony Cragg are exhibited at the outer area of the Ciutat de les Arts i les Ciències thanks to the Hortensia Herrero Foundation. The six sculptures, three of which are made specifically for this exhibition, can be seen until 4 November 2018 in different places within the complex: "The most exciting part of my job is when you have an idea of ​​where you want to go and finally you get a totally different result that you were not able to anticipate. My sculptures have very different points of view, you have to turn them around to see them completely", Cragg says about his work.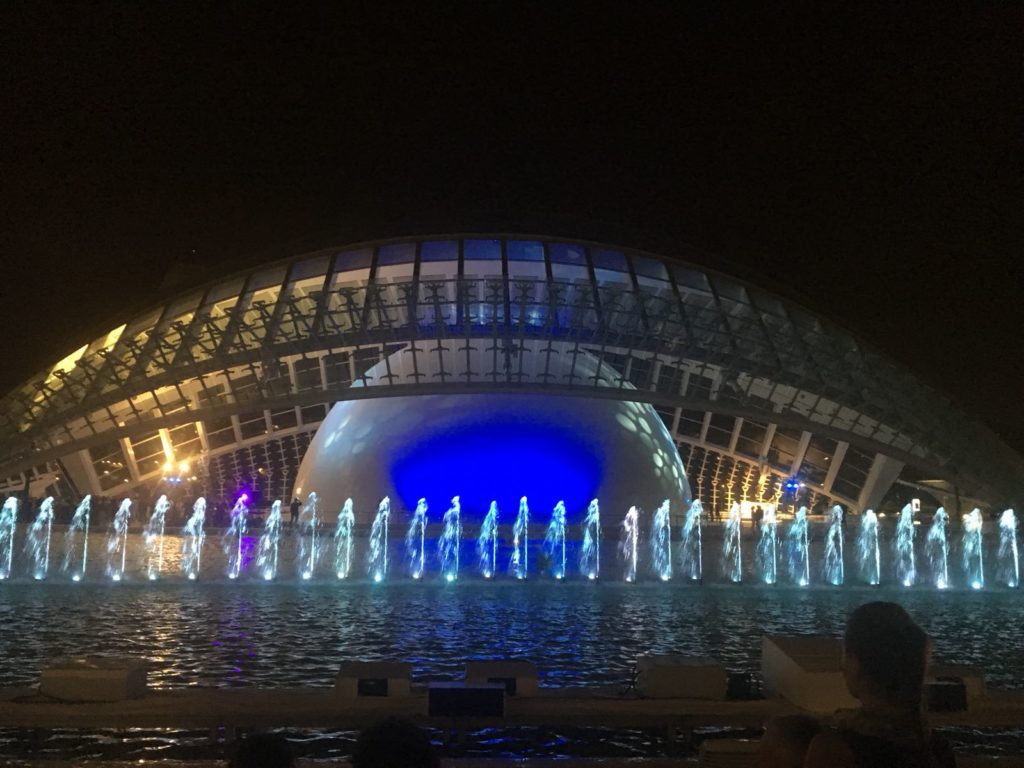 Four sculptures can be seen on the water in the various ponds within the site, which is something new, since this artist had never exhibited his works on a water surface. These sculptures are made in various materials such as bronze, steel and fibreglass. As for their sizes, some will exceed six meters in height and 4 tons in weight. "The materials are very important in my work. My thoughts are based on the materials. If you work with materials, forcing materials, changing materials, you will find a path that nobody else has traveled," the English artist said.
Tony Cragg also has an exhibition in the streets of New York at the same time as the exhibition in València and is considered to be one of the most iconic representatives of the rebirth of the British sculpture scene of the 80s, which has earned him all kinds of international awards. His work is characterised by the use of very different materials such as stone, wood, aluminium, bronze, steel or plastic that he transforms into organic forms.